Coronavirus and Client Appointments at Hall Payne Lawyers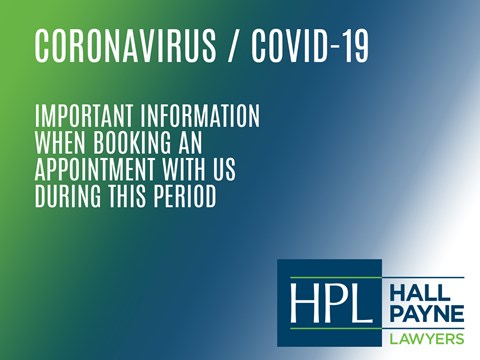 Updated 24 March 2020
Hall Payne Lawyers is ensuring we stay up to date with Federal and State Government guidelines.
As such all face to face meetings are being kept to the absolute minimum, however, we are using video and phone conferencing, to ensure your legal matter continues to move forward.
In line with World Health Organisation guidelines together with Australian Federal Government guidelines and any State Government specific requirements, this may change.
Hall Payne Lawyers is able to provide non-office consultations with clients who would prefer not to attend in person. This could be arranged by phone, Skype, Facetime etc. Simply call us on 07 3017 2400 (Brisbane head office) to make this request.
If you are experiencing flu-like symptoms including cough, sore throat, fever and/or fatigue, we request that you do not attend any of our offices but rather, you seek medical advice and assistance by calling your GP.
We have placed this notice across our various online platforms including our website, Google My Business listings, Facebook and LinkedIn. This message will be updated as required so you can be assured of always having our latest advice.
If you have any queries, please do not hesitate to contact our CEO, Mark Wiggins, on 07 3017 2400 or by email at markw@hallpayne.com.au
Stay safe
Best regards
Hall Payne Lawyers
---