Informed consent- a duty to warn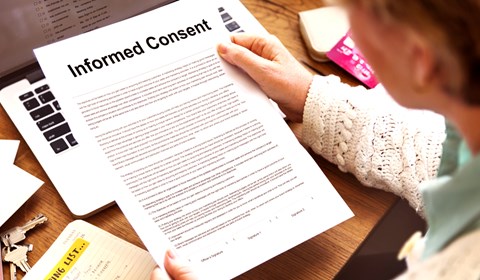 Health providers have a duty to exercise reasonable care and skill when providing advice and treatment. This duty extends to the examination, diagnosis and treatment of a patient and the level of information provided to the patient.
Not all medical procedures and treatment result in the expected outcome. They carry risks.
Does a doctor have responsibility to tell the patient about risks?
As a patient, you should be given appropriate and sufficient information about the potential risks of a procedure or treatment to allow you to make an informed decision on whether to undergo the procedure or treatment.
A doctor is not expected to warn a patient about every possible risk associated with the medical procedure or treatment. But that doctor does have a duty to warn patients of all material risks associated with a medical procedure or treatment.
The duty to warn was considered in the High Court case of Rogers v Whitaker (1992) 175 CLR 479where it was said a risk was material if:
'in the circumstances of the particular case, a reasonable person in the patient's position, if warned of the risk, would be likely to attach significance to it, or if the medical practitioner is or should reasonably be aware that the particular patient, if warned of the risk, would be likely to attach significance to it.'
What information and advice is given to a patient depends on the individual circumstances of each case. For example, information about risks given in a lifesaving emergency situation, if at all possible, would be substantially different to those discussed with a patient who was about to undergo elective surgery.
In any claim for medical negligence (malpractice), it is the claimant to prove that the injury sustained was caused or materially contributed to by the wrongful conduct of the health provider.
The difficulty a claimant will often face in a failure to warn case is proving that, had the doctor warned them of the risk, they would not have agreed to undergo the procedure or treatment. A claimant cannot rely on a statement made after suffering the injury that they would not have undergone the procedure or treatment if they had been warned of the risk.
Failure to warn medical negligence claims are notoriously difficult to run. The patient must prove that they would not have undergone the procedure, or had the treatment, if they had been informed of the material risks. While the Courts have certainly awarded damages in a number of failure to warn claims, the individual circumstances of each case must be considered carefully.
Importantly, as a patient, you have the right to ask questions about medical procedures and treatment. If you are not satisfied with the medical services provided by a health provider, you can seek further opinions.
If you are concerned by medical treatment provided to you, then you should contact us as soon as possible to find out about your legal rights.
---
This article relates to Australian law; either at a State or Federal level.
The information contained on this site is for general guidance only. No person should act or refrain from acting on the basis of such information. Appropriate professional advice should be sought based upon your particular circumstances. For further information, please do not hesitate to contact Hall Payne Lawyers.
---