Doyles Guide Awards 2018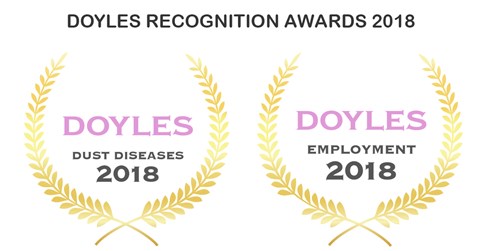 Doyles Guide is an awards recognition program for law firms and lawyers across Australia. Awards are attributed as "Australia wide" or for specific states and territories. They are also awarded relative to practice area or specialty. It is compiled through legal industry peer recommendations.
At Hall Payne, we're delighted to have been recognised in 2018, by our peers, for a number of awards.
We take great pride in the work we do, the clients we work with (both individuals and institutions) and our team of lawyers, managers and administrative staff. It's this pride along with our expertise and experience and our dedication to what we do and who we do it for, that has helped deliver these awards.
We congratulate our whole team on our "firm" based awards and those lawyers listed below for their "individual" awards.
2018 Doyles Guide Awards
Firm Awards:
Australia
Leading Employment Law Firms (Employee & Union Representation) – Australia, 2018
Second Tier Award
Queensland
Leading Asbestos & Dust Diseases Compensation Law Firms (Plaintiff)- Queensland, 2018
Recommended
Queensland
Leading Employment Law Firms (Employee & Union Representation) – Queensland, 2018
First Tier Award
New South Wales
Leading Employment Law Firms (Employee & Trade Union Representation) – NSW, 2018
Second Tier Award
Individual Lawyer Awards:
Australia
Leading Employment Lawyers (Employee & Union Representation) – Australia, 2018
Leading – John Payne
Leading – Luke Tiley
Queensland
Leading Asbestos & Dust Diseases Compensation Lawyers (Plaintiff) – Queensland, 2018
Recommended – Linda Brangan
Queensland
Leading Employment Lawyers (Employee & Union Representation) – Queensland, 2018
Preeminent – Luke Tiley
Leading – John Payne
New South Wales
Leading Employment Lawyers (Employee & Trade Union Representation) – NSW, 2018
Leading – Luke Forsyth
Leading – Joe Kennedy
---