Can I return to work after a successful TPD claim?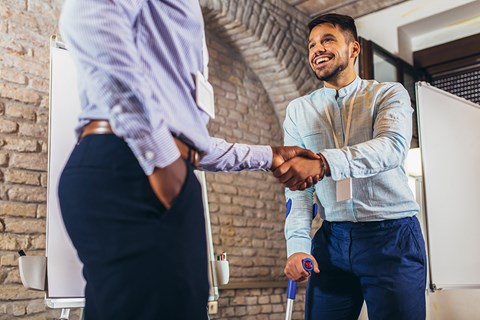 It is difficult for many to accept the proposition that they will never be able to go back to work after an injury or illness, particularly those who are injured or become ill at a young age. Those who claim TPD benefits after injury or illness often ask us if there are any options to return to work after receiving their TPD payout.
As the insurance benefit amount is generally only paid to you on the basis that you are unlikely/unable to ever return to any suitable employment based on your prior work history, to return to the same or similar work might, in certain circumstances, be considered to be evidence of a possible fraudulent claim.
It is our experience that clients quite often undertake retraining in order to return to some form of gainful employment that they can do which fits within their reduced capabilities and circumstances. That poses the question: "If I retrain after a TPD payout, will I be able to return to work in a new role?"
Returning to work after a TPD payout if I retrain or my health improves
In some cases, clients who have previously received a TPD insurance payout may have completed a formal qualification or commenced retraining. Other times they have received additional or new treatment significantly improving their condition, which results in them being ready to return to work at some stage.
As each application is assessed against different insurance policy provisions and definitions, there is no "one size fits all" answer, unfortunately.
As a general rule, if an individual's circumstances have changed since their claim was assessed and granted, they are not prevented from returning to gainful employment on the basis of having received treatment which has improved their illness or injury. Likewise, if they have taken the initiative to retrain into alternative work, and their insurance policy definitions allow it, they may be able to return to gainful employment.
Newly emerging occupations available after a TPD payout
Having received a benefit from a successful TPD claim, where the insurer accepted that your injury or illness prevented you from being able to work within the types of roles that you have experience and/or qualifications in, should not prevent you from returning to work within an industry or occupation that is a new or emerging one.
Since the pandemic, we have seen a huge demand for food and grocery pick-up and delivery services. Pay-for-ride services like Uber are another form of employment that has become popular and more easily accessible to the general worker.
Being able to drive your own vehicle in order to earn a living, in a role where you can set your own time schedule, which has flexibility and can cater to any reduced physical capabilities, is something that most people need when they have a total and permanent disablement.
Of course, if you were a delivery or taxi driver prior to making a successful TPD claim, then continuing to work (or returning to work) in similar roles could be an issue for you in terms of the genuineness of your claim.
Know the terms of your TPD insurance policy – "own occupation" vs "any occupation"
It pays to know the basis upon which your TPD claim was accepted due to being totally and permanently disabled. Each insurance policy will have definitions that need to be satisfied in order to receive an insurance benefit.
Some policies include a TPD definition that relates to the person's "own or most recent occupation". Alternatively, and more frequently, an "any occupation" definition could apply, which determines whether they are able to return to work within their education, training or experience. The latter type of assessment is more general and takes into account the whole of the individual's work history and transferrable skills.
Whether you return to some form of work after being accepted as totally and permanently disabled by an insurer/superannuation fund Trustee is ultimately a matter for you. However, it would be in your best interests to review your policy with regard to any retraining provisions that may be incorporated into the TPD definition and whether the policy includes any payback provision if you do start working again. If there is a payback provision, there is a prospect that the fund/insurer might seek recovery of some or all of the TPD benefit it made to you.
Get help from a TPD lawyer
At Hall Payne Lawyers, we assist with a range of disability insurance claims, including TPD, income protection and trauma insurance. We can help you understand what the basis of your claim acceptance was so you can make an informed decision on going back to some form of work.
If you haven't yet commenced your TPD claim, having someone on your side who understands the claims process as well as the insurer's obligations and the legal terminology is often the difference between having your claim accepted or rejected by the insurer.
If your claim has been denied, is taking too long or you have any other concerns in relation to TPD, income protection or death benefits, get in touch with a member of our superannuation and insurance team.
Contacting Hall Payne Lawyers
You can contact us by phone or email to arrange your consultation; either face-to-face at one of our offices, by telephone or by videoconference consultation.
Phone: 1800 659 114
Email: general@hallpayne.com.au
---
This article relates to Australian law; either at a State or Federal level.
The information contained on this site is for general guidance only. No person should act or refrain from acting on the basis of such information. Appropriate professional advice should be sought based upon your particular circumstances. For further information, please do not hesitate to contact Hall Payne Lawyers.
---