2015 Industrial Relations Review: A Specialist's Perspective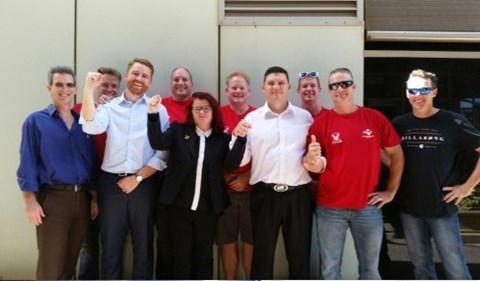 Hall Payne Lawyers Associate and Employment/Industrial Law Accredited Specialist Joseph Kennedy is a key player in our Industrial Relations team. As 2015 comes to a close, read about the year that was in his Industrial Relations review.
What do you think is the biggest emerging issue in employment and industrial law from 2015?
In my view, the biggest emerging issue is the rising prevalence of individuals being found liable by courts for contraventions of the Fair Work Act (FW Act). This has largely been caused by regulators, unions and employers showing an increasing desire to pursue the individual persons involved (for the purpose of s.550 of the FW Act) in contraventions, whether they be union officials and permit holders, or company directors and managers. The consequences of such a finding can lead to the imposition of significant pecuniary penalties on the individual and even orders to pay compensation caused by the contravention. The imposition of pecuniary penalties now has the potential for more serious consequences for the individual, in light of the Federal Court decision of Director of the Fair Work Building Inspectorate v Bragdon Ors (No. 2) [2015] FCA 998.
That judgment, presently on appeal to the Full Court, stands for the proposition that an individual right of entry permit holder found to have contravened the Act, can be ordered by a court to pay the penalty personally and not seek or receive reimbursement from their union or a related party. In my view, this principle is equally applicable to company directors and managers found to have contravened the FW Act, for example by failing to pay wages or entitlements, and may even be the subject of legislative amendment in 2016.
What role do you think unions can play in this issue?
Unions need to continue to be vigilant in their approach to contraventions of the FW Act both in relation to their own compliance but also when pursuing companies. They should not miss the opportunity to pursue company directors or managers, where possible, for contraventions of the FW Act. Whether the Court will be likely to make similar orders as those made in Bragdon will be likely settled either on appeal or by the Commonwealth Parliament.
Compared to 2014, do you think there's anything that has taken a back seat when it comes to IR?
The monitoring of employer compliance with employment and industrial laws. Regulators also appear to have shown a lower willingness to pursue employers in the courts, preferring instead to receive undertakings or settlement agreements. This, unfortunately, has the potential to create an expectation amongst employers that non-compliance has a negligible real cost. The 7/11 scandal that emerged a few months ago is but one example.
This year has seen some incredible decisions come down in favour of HPL clients – when you look back in five years time, what do you think will be the standout?
Our High Court victory in CEPU v Queensland Rail would have to be a highlight of 2015. That decision has the potential to fundamentally alter the way state governments go about structuring their various entities in the future and typifies the inherent value in strategic and well executed litigation for unions.
Our other High Court success in Commonwealth v Director, Fair Work Building Industry Inspectorate & CFMEU [2015] HCA 46 means unions and the regulator will be able to continue to reach common-sense resolutions to prosecutions and highlights the inherent distinction between criminal and civil prosecutions.
Finally, our recent success in achieving a stay in our appeal of the above first instance Federal Court decision in Bragdon in relation to personal payment of penalties and right of entry purpose when entering sites may prove to be a standout, along with the outcome of the substantive appeal, in relation to those two emerging legal issues.
Stepping outside the firm, what do you think have been the big decisions effecting unions and workers?
The recent sham contracting case in the High Court – Fair Work Ombudsman v Quest South Perth Holdings Pty Ltd [2015] HCA 45 – reinforces not only the increasing prevalence of such sham arrangements in the industrial relations landscape, but also the potential liability for employers and litigious opportunities for employees found in such situations, and the unions representing them.
Any predictions for 2016?
The Liberal government to take a suite of reforms in the industrial relations area to the next election, including not least of all increasing the maximum penalty for a contravention of legislation (with the aim to punish unions) and providing court's with power to ensure personal liability for penalties, which will have unintended consequences for employers and managers found to a have contravened such laws.
Hall Payne Lawyers are experts in the area of Industrial Relations. If you require assistance with any associated IR issue and want to achieve the best possible outcome, we can help. Please contact HPL Principal Luke Tiley (Brisbane), HPL Associate Joseph Kennedy (Sydney), all available on 1800 659 114.
---